This link will deliver you to the recording "Работаем с картинками в Moodle" of the course "Технологии ДО как средство обеспечения индивидуального подхода к учащимся" in the virtual world of vAcademia.
If the link didn`t work:
1) vAcademia on your computer is installed not from the account of the administrator. Install vAcademia under the account with the administrator`s rights or use the list of records in the client program for visiting 3D-recordings of classes.
2) If vAcademia isn`t installed on your computer, you have to download and install on the computer the client of vAcademia.
After extermination of the reason of not operability of the link it is necessary to press the "Watch in world" button on this page.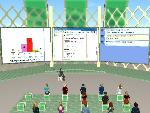 Venue:

"Bionics. Audience"